Désormais chaque semaine le blog se mettra à l'exercice du mix avec leurs chroniqueurs qui assureront à tour de rôle 1h de musique en continue avec leurs tracks préféré.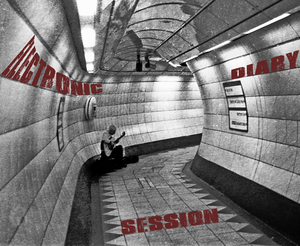 http://itunes.apple.com/fr/podcast/electronic-diary-session/id509333876
Ce weekend c'est Dei Kean qui nous a offert un mix techno parfaitement réalisé sur vinyle avec une tracklist impressionnante, on le remercie et on vous demande de partager cette merveille:

Xhin - Elliptic (Original Mix)
Sigha - Where I Come To Forget (Original Mix)
Xhin - Hepta (Original Mix)
Traversable Wormhole - Tranduscer
Unbalance - Fluid (Jonas Kopp Remix)
Cassegrain - Palette (Original Mix)
Shifted - Leather (Original Mix)
Solenoid - Colony (Original Mix)
Eduardo De La Calle - Solution (Original Mix)
Sawlin - Boring Feels (Original Mix)
Shifted - Bleeding Through (Original Mix)
Raoul Delgado & Eddy Masvoodler - You're gonna get your fuckin head kicked in (Original Mix)
AnD - DST (Original Mix)

C'est Laurent S qui a mixé la 8e session, toujours aussi deep house pour notre plus grand bonheur:
Disco Stu & John Monkman : Don't Have To Be Beautiful (Kote)
Jon Sweetname : Dulce Amor (Loco)
Manuel Tur : About To Fall (Mild Pitch)
Muovo : All My Love (Emanuel Satie Remix) (Audio Safari)
Deemod : B.U.S.O (Purple Sun)
Alex Niggemann : Don't Wait (Moodapella Dub) (Poker Flat)
Manuel Tur : Obsidian (Demanio Von Erckerts Raw Dance Mix) (Freerange)
Spieltape : Her Eyes (Evren Ulusoy's Moody Dub) (Moodmusic)
DJ Yellow & Yota : I Can't Resist You (Franck Roger Dub) (Composite)
Francesco Bonora & Zoe Xenia : Heart & Spirit (Christian Hawk & Timid Boy Naked Mix) (High Definition)
Tucillo & Kiko Navarro feat. Amor : Lovery (Yoruba Soul Mix) (King Street)
Kevin Saunderson feat. Inner City : Future (DJ Chus In Stereo Mix) (Defected)
Pour cette 7e session nous accueillons le talentueux Asier qui a eu la gentillesse de nous mixer une heure de techno pure et dure. Les amateurs apprécieront la tracklist que voici:
Hans Bouffmyhre - Therapy
Mark Broom - M28 (Truncate remix)
Psyk - Third trail
Unbalance - Fluid (Jonas Kopp remix)
Abstract Division - Deformation (Norman Nodge remix)
Delta Funktionen - Data economics
Exium - Complex (Rolando remix)
Mike Parker - Pulse trader
Reeko - Omnicide
Sawf - Unrythm (Marcel Fengler remix)
Silent Servant - Mad youth
Shifted - Gates
Shifted - Lexis
C'est Raphaël Lenoir qui s'occupe de la sixième session avec une tracklist plutôt orienté downtempo/electronica:
Pan & Me - The Lighthouse at Two Lights
Blues Control & Laraaji - Awakening Day
Nicola Ratti - Air Resistance
Mister Lies - False Astronomy
Moby - Natural Blues (Σ-Fly Remix)
Airhead - Wait
Torus - Cavemonsters Are Kind
Tomas Barfod - Broken Glass (Shlohmo Remix)
Swod - Sans Peau
Chapelier Fou - Darling, Darling, Darling
Halls - Lifeblood
Stendeck - Catch the Midnight Girl
Ivan Shopov - Trepet
Solar Fields - Sombrero
http://itunes.apple.com/fr/podcast/electronic-diarys-podcast/id509333876
Nous sommes très fier d'accueillir pour notre cinquième session notre premier guest Enonny un DJ redoutable très underground, maniant les beats techno à la perfection. http://soundcloud.com/ennony/tracks
Podcast ! http://itunes.apple.com/fr/podcast/electronic-diary-session/id509333876
(merci de partager)
Frozen Border - FB07 B (Original Mix)
Dino Sabatini - Step 1 (Original Mix)
Fb05#.4.26. - FB05 B (Original Mix)
Markus Suckut - Shine (Original Mix)
Ben Klock - Napoleon Hill
Joey Beltram - Energy Flash
Lucy and Xhin - LX5
Sascha Rydell - Laisser Faire
Conforce - Shadows of the Invisible
Roman Lindau - Sub Suggestion
Marcel Dettmann - Duel
Norman Nodge - ManMade (Original Mix)
James Ruskin, Regis, O/V/R - Post-Traumatic Son (Marcel Dettmann MDR Version)
Damon Wild - Avion (Marcel Dettmann Remix)
La 4e session a été mixé par Kartela dans le sytle Techno/ Tech House. Bonne écoute!
Abonnez vous: http://itunes.apple.com/fr/podcast/electronic-diarys-podcast/id509333876?l=en
Tracklist:
Dusty Kid - Beyond That Hill
Minilogue - The Leopard (Extrawelt Remix)
Rone - So So So
Moonbeam - Only This Moment (Original Mix)
Hot Chip - I Feel Better (Max Cooper Remix)
Agoria - Panta Rei
Ian O'Donovan - Redemption (Original Mix)
Radiohead – Everything in its right place (Andi Müller Remix)
Massive Attack - Paradise Circus (Gui Boratto Remix)
Made by Monkeys Feat. Darcy Conroy - I Think Of You (Rui da Silva Remix)
La 3e Session a été mixé par Laurent S dans le style deep house/ Deep Techno. Bonne écoute.
Abonnez-vous: http://itunes.apple.com/fr/podcast/electronic-diarys-podcast/id509333876?l=en
Tracklist:
Michelle Owen : Perchance to Dream (Chez Damier Secret Sunday 12-inch Mix) (Moodmusic)
Lovebirds : Keep Coming (Axel Boman Mix 2) (Freerange)
Michel De Hey & M.I.R.K.O : Give Me a Light (Rodriguez Jr. Remix) (Hey!)
Ian O'Donovan : Calypsa (Hype Muzik)
BLM & Pawas : Waiting Game (Rndm Remix) (Sudden Drop)
Manuel Regnet : Joy (James Johnston Remix) (Assembly)
Alain Ho & Alex Arnout : Your Love (John Daily Remix) (The Esquisite Pain)
Aron Duijndam : Fosfor (Andreas Bergmann Remix) (Klopfgeist)
Deetron : The Juggler (Get Physical Music)
La 2e session a été mixé par Raphaël Lenoir dans le genre Ambient/Electro-acoustique/Drone.
Abonnez-vous: http://itunes.apple.com/fr/podcast/electronic-diarys-podcast/id509333876?l=en
Tracklist:
Chris Watson - La Anunciante w/ El Divisadero
Strië - Arabesque
Nils Frahm - Less
Leyland Kirby - My Dream Contained A Star
Tim Hecker - The Piano Drop
The Caretaker - When The Dog Days Where Drawing To An End
A Winged Victory For The Sullen - Steep Hills Of Vicodin Tears
Ólafur Arnalds - Everything Must Change
Amplified Presence - Bed Of Powdered Glass
Alva Noto & Ryuichi Sakamoto - Reverso
Field Rotation - Acoustic Tale 5
L'ouverture du podcast se fera avec l'instigateur du blog: Kartela, voici les 9 morceaux Tech House composant cette session:
Raucherecke - Der Tropfende Kessel (Original Mix)
Matthew Burton, Kate Rathod - Warehouse Fool (Original Mix)
Robag Wruhme - Wemmel (Original Mix)
Spencer Parker - The Improvised Minotaur
Karol XVII & MB Valence - Lost (Original Mix)
Milton Jackson - DSI
Pig & Dan - Pollerwiesen (Original Mix)
Sven Tasnadi - Caracho (Original Mix)
Sasha Funk- Mango
Abonnez-vous:http://itunes.apple.com/fr/podcast/electronic-diarys-podcast/id509333876?l=en